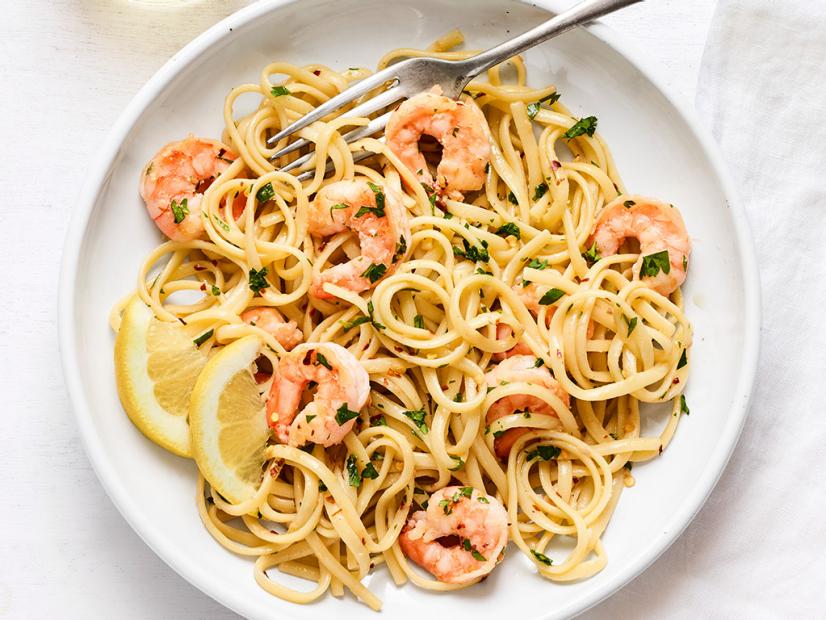 RECIPE COURTESY OF FOOD NETWORK KITCHEN From: Food Network Magazine Modified for low carbohydrate diet by Diane Kress, author of The Metabolism Miracle, second edition.
Classic Shrimp Scampi with spaghetti…low carb version!
America can't seem to get enough of shrimp scampi: It's one of the 10 most-searched recipes on FoodNetwork.com during the summer months. By using the wonderful low carb pasta from The Great Low Carb Company (www.greatlowcarb.com). you and your family can enjoy delicious spaghetti with shrimp scampi with no impact on your blood glucose or insulin release! Mangia!!!
Total: 30 min
Active: 30 min
Yield: 4 servings
This recipe serves 4.
Count as a 5 gram Counter Carb on The Metabolism Miracle!
Ingredients
Kosher salt
12 ounces The Great Low Carb Bread Company (https://greatlowcarb.com/shop/ )SPAGHETTI
1 1/4 pounds large shrimp, peeled and deveined
1/3 cup extra-virgin olive oil
5 cloves garlic, minced
1/4 to 1/2 teaspoon red pepper flakes
1/3 cup dry white wine
Juice of 1/2 lemon, plus wedges for serving
4 tablespoons unsalted butter, cut into pieces
1/4 cup finely chopped fresh parsley
Directions
Bring a large pot of salted water to a boil. Add the Great Low Carb Bread Company (https://greatlowcarb.com/shop/ ) SPAGHETTI and cook as the label directs. Reserve 1 cup cooking water, then drain.
2. Meanwhile, season the shrimp with salt. Heat the olive oil in a large skillet over medium-high heat. 3. Add the garlic and red pepper flakes and cook until the garlic is just golden, 30 seconds to 1 mnute.
4. Add the shrimp and cook, stirring occasionally, until pink and just cooked through, 1 to 2 minutes per side.
5. Remove the shrimp to a plate. Add the wine and lemon juice to the skillet and simmer until slightly reduced, 2 minutes. 
6. Return the shrimp and any juices from the plate to the skillet along with the cooked linguine, butter and 1/2 cup of the reserved cooking water.
7. Continue to cook, tossing, until the butter is melted and the shrimp is hot, about 2 minutes, adding more of the reserved cooking water as needed. Season with salt; stir in the parsley. Serve with lemon wedges
SHOP HERE FOR DIANE KRESS' PASTA RECOMMENDATION: https://greatlowcarb.com/shop/
Consider beginning The Metabolism Miracle or The Diabetes Miracle now. By early August, you will look great, feel great, have higher energy, a better mood, and look much smaller. For every pound you lose on The Metabolism Miracle, you will lose an inch off your body measurements! (On a typical weight loss diet, you will lose only 1/2 inch for every pound loss! Do it right and get amazing results with The Metabolism Miracle, Second Edition. You can join me, Diane Kress, on the support site: http://www.Miracle-Ville.com for answers, support, and thousands of MM recipes!